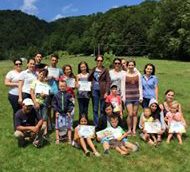 Mana Deschisa  (Open Hand) Association
Christian residential center for homeless people or for those who are in the immediate danger of becoming homeless due to poverty, abuse, domestic violence, emotional problems or substance use.
We have a daring goal – that is to offer tough and unconditional love to all our beneficiaries as they overcome the disadvantages of their lives and destructive behaviors. We want to offer a home for today and a hope for the future!
Our mission is to serve our Lord and Savior Jesus Christ through the work of Mana Deschisa in offering love and the opportunity to change to the homeless and disadvantaged youth, to those who have experienced circumstances in their lives that most of us could hardly imagine.